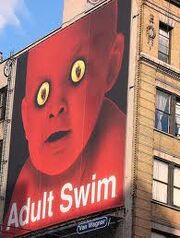 Adult Swim
is an adult-oriented
cable network
that shares channel space with
Cartoon Network
from 6:00 pm/9:00 pm until 3:00 am/6:00 am
PT
/
ET
in the
United States
, and broadcasts in countries such as
Australia
and
New Zealand
. The network features myriad stylistically-variable animated and live-action shows, including original programming,
syndicated
shows, and Japanese
anime
, generally with minimal or no editing for content. The programs featured on Adult Swim are geared toward an 18+ audience, in contrast to the originally all-ages daytime programming on Cartoon Network. On December 27, 2010, Adult Swim's
sign-on
time was moved an hour earlier, to 9:00 ET/8:00 CT, extending the networks daily schedule to a total of 9 hours.
Adult Swim's bumpers are weird, creepy, and adult styled stuff. One of their bumpers were Courage Wolf, a internet meme. Example of a bumper is
Grandma Computer
where there is a computer and it's combing Grandma. Then she looks back at the camera with a computer colored face.
Bomb Scare
Edit
On January 31, 2007, Boston and Massachusetts State Police were put in various places in Boston after reports of suspicious packages were sighted. The next day, Boston authorities arrested two men involved with the incident. Peter Berdovsky, 27, a freelance video artist from Arlington, Massachusetts, and Sean Stevens, 28, were facing charges of placing a hoax device to incite panic, as well as one count of disorderly conduct, according to CNN, which is also owned by Turner Broadcasting.
On February 5, Turner Broadcasting and marketer Interference Inc. announced that they would pay two million dollars in amends: one million to the city of Boston, and one million in goodwill funds. Four days later, on February 9, Jim Samples, then-general manager and executive vice president of Cartoon Network, resigned. Turner Broadcasting issued an apology, causing a series of bomb scares throughout Boston on January 31, 2007. A statement from Turner Broadcasting said: "The 'packages' in question are magnetic lights that pose no danger. They are part of an outdoor marketing campaign in 10 cities in support of Adult Swim's animated television show Aqua Teen Hunger Force. They had been in place for two to three weeks in Boston, New York City, Los Angeles, Chicago, Atlanta, Seattle, Portland, Austin, San Francisco, and Philadelphia. Parent company Turner Broadcasting is in contact with local and federal law enforcement on the exact locations of the billboards. We regret that they were mistakenly thought to pose any danger."
Community content is available under
CC-BY-SA
unless otherwise noted.